Annual Housing Survey: 1977 — Washington, D.C.-Md.-Va. Standard Metropolitan Statistical Area
Release Date:
January 1980 (595)
Posted Date:
February 10, 2021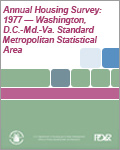 This historic report presents selected data from the Annual Housing Survey — which would become the American Housing Survey in 1984 — to characterize the metropolitan statistical area (MSA) of Washington, D.C and its Maryland and Virginia suburbs. The report describes the MSA's population; household, housing, and neighborhood characteristics, and financial status. This publication is part of a series of reports published by HUD and the U.S. Census about the Annual Housing Survey results of different MSAs.

This report is part of the collection of scanned historical documents available to the public.