Bibliography on Housing, Building and Planning for Use of Overseas Missions of the United States Agency for International Development
Release Date:
May 1969 (51 pages)
Posted Date:
June 4, 2021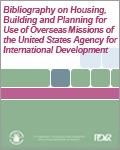 This historic publication, prepared by HUD's library for use by overseas missions of the U.S. Agency for International Development for program use in developing countries, is a bibliography listing approximately 400 then-contemporary books and periodicals on housing, building, and planning. The selections were made in order that a mission concerned with housing could use the bibliography to assemble a basic technical collection useful to its work as well as to local architects, builders, libraries, universities, financial institutions, and others.

This report is part of the collection of scanned historical documents available to the public.