Books About Cities
Release Date:
January 1969 (32 pages)
Posted Date:
June 4, 2021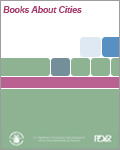 This historic document, intended chiefly for use by HUD's Urban Interns, is a bibliography of 68 books about American cities, urban problems, planning, and government. This publication is a revision of an older bibliography, "60 Books on Housing and Urban Planning," published in 1966.

This report is part of the collection of scanned historical documents available to the public.