Britain's Housing Shortage
Release Date:
November 1944 (20 pages)
Posted Date:
February 18, 2021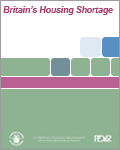 This historic pamphlet, published by the Oxford University Press and part of the Oxford Pamphlets on Home Affairs series, details the housing shortage in postwar Britain. The author discusses the cause of the shortage, examines possible solutions, and details other issues such as slum clearance, modernization, and affordability.

This report is part of the collection of scanned historical documents available to the public.