Childhood Housing and Adult Earnings: A Between-Siblings Analysis of Housing Vouchers and Public Housing
Release Date:
October 2016 (66 pages)
Posted Date:
February 16, 2017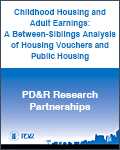 This study estimates the effect of residence in voucher-supported and public housing as a teenager on earnings and incarceration as a young adult. Receiving HUD rental assistance as a teenager yields substantial positive effects on later income from earnings as a young adult. Both living in public housing and living in a housing voucher-subsidized unit lead to positive and significant effects on later earnings for both male and female teenagers. The study found corresponding reductions in the likelihood of adult incarceration with lower mean incarceration rates for both males and females.