Discrimination Against Chicanos in the Dallas Rental Housing Market: An Experimental Extension of the Housing Market Practices Survey
Release Date:
August 1979 (43 pages)
Posted Date:
June 22, 2021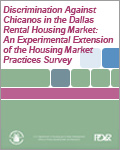 This historic publication was conducted by the Division of Evaluation in the Office of Policy Development and Research to examine the difference in treatment between Chicanos and whites when searching for housing. This study replicates and refines the audit methodology found in the publication Measuring Racial Discrimination in American Housing Markets to take into account the skin color of the Chicano auditors. Key findings are that dark-skinned Chicanos have a 96 percent chance of experiencing at least one instance of discrimination and light-skinned Chicanos experienced a 65 percent change of encountering discrimination.

This report is part of the collection of scanned historical documents available to the public.