Discrimination Against Persons With Disabilities: Testing Guidance for Practitioners
Release Date:
July 2005 (190 pages)
Posted Date:
June 22, 2021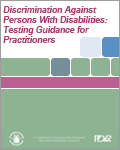 This historic publication was conducted by the Urban Institute (UI) for HUD to advance the state-of-the-art in testing to measure discrimination against persons with disabilities for both research and enforcement purposes. This report draws upon both the exploratory and pilot phase experience of Disability Discrimination Study (DDS) and offers practical information to advocates, enforcement and regulatory agencies, and other interested parties about the possible uses of disability discrimination testing as an investigative tool to aid in the enforcement of the fair housing laws.

This report is part of the collection of scanned historical documents available to the public.