Equal Opportunity Data Needs: Final Report
Release Date:
May 1976 (150 pages)
Posted Date:
June 22, 2021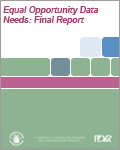 In this historic publication equal opportunity data collection and data user needs within the Department of Housing and Urban Development was undertaken by Evaluation Technologies, Inc. in fulfillment of a contract jointly supported by the Office of Fair Housing and Equal Opportunity and the Office of Policy Development and Research. The study was designed to identify reported information on the beneficiaries of HUD programs and to determine whether it is adequate for an evaluation of the impact of these programs on minorities and the disadvantaged.

This report is part of the collection of scanned historical documents available to the public.