Equal Opportunity in Suburbia: A Report of The United States Commission on Civil Rights
Release Date:
July 1974 (84 pages)
Posted Date:
June 22, 2021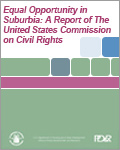 This historic publication is based off the testimony over 150 witnesses gathered by the Commission on Civil Rights in public hearings in St. Louis, Baltimore, and Washington D.C. between January 1970 and June 1971. The report is meant to analyze the metropolitan pattern of racial polarization of the exodus of affluent whites from the cities to the suburbs from its causes to its consequences.

This report is part of the collection of scanned historical documents available to the public.