Evaluation of the Project SOAR Demonstration Final Report
Release Date:
July 2020 (98 pages)
Posted Date:
August 19, 2021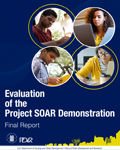 Project SOAR (Students + Opportunities + Achievements = Results), also known as "ROSS for Education," was a 2-year HUD demonstration, implemented between 2017 and 2019, to expand educational services to youth living in public housing. Project SOAR provided grant funding to nine public housing agencies (PHAs) to hire education navigators to help youth between the ages of 15 and 20 to complete the necessary steps to transition to and succeed in postsecondary educational programs. The primary goal of the demonstration was to help students complete the Free Application for Federal Student Aid (FAFSA). Other grant objectives included: improving financial literacy and college readiness, completing postsecondary program applications, and completing other tasks necessary for postsecondary education enrollment. As part of the grant, PHAs agreed to participate in an impact evaluation. Four PHAs (Chicago; Philadelphia; the City of Los Angeles; and Seattle) were assigned to an experimental impact evaluation, where navigators were randomly assigned at the building (or group of buildings) level, to help a subset of eligible resident. The remaining five PHAs (City of Phoenix; City of Milwaukee; High Point, NC; Prichard, AL; and Northwest Georgia) were assigned to a non-experimental component of the impact evaluation. This report presents the results from the impact evaluation and the findings from an implementation study based on site visits and a navigators' tracking tool. The implementation study found that it took time for SOAR navigators to engage residents. Navigators encountered reluctance from residents to participate, and they provided in-person assistance to fewer than half of age-eligible residents. Both the experimental and non-experimental impact evaluations found that Project SOAR did not lead to statistically significant improvements in FAFSA completion, college enrollment, or Pell Grant receipt during and immediately after the completion of the grant (between October 2018 and March 2020).