The Fair Housing Assistance Program Evaluation
Release Date:
June 1985 (313 pages)
Posted Date:
July 25, 2021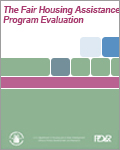 This historic report is the first evaluation of the Fair Housing Assistance Program, a program adopted by HUD in 1980 to provide funds, training, and technical assistance to state and local agencies tasked with processing housing discrimination complaints. The authors sampled 15 FHAP agencies and analyzed their functionality. An analysis of the collected data was published in the publication Case Study on HUD Processing of Title VIII Complaints.

This report is part of the collection of scanned historical documents available to the public.