Underwriting Manual: Underwriting and Valuation Procedure Under Title II of the National Housing Act
Release Date:
February 1938 (439 pages)
Posted Date:
June 22, 2018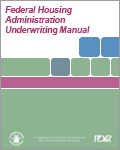 This historical manual contains instructions, policies, and regulations governing the work of FHA underwriting staff tasked with determining the eligibility of non-farm mortgages for insurance under Title II of the National Housing Act. Broadly, the determination was made by ascribing a risk rating to the applicant as compared to a value rating of the property. Published in 1938, the document references policies of racial discrimination.

This report is part of the collection of scanned historical documents available to the public.