Home Free? New Vistas in Regional Housing
Release Date:
February 1974 (65 pages)
Posted Date:
July 1, 2021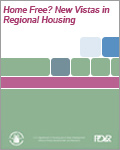 This historic publication is a report by the Nation Committee Against Discrimination in Housing, Inc. regarding its Urban Renewal Demonstration Project. The project and publication were funded through a grant from the U.S. Department of Housing and Urban Development's Office of Policy Development and Research, under the provisions of Section 314 of the Housing Act of 1954.

This report is part of the collection of scanned historical documents available to the public.