Housing Allowance Demand Experiment: Locational Choice, Part 2 — Neighborhood Change
Release Date:
August 1977 (225 pages)
Posted Date:
April 22, 2021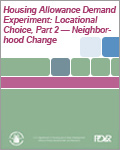 This historic report about the Housing Allowance Demand Experiment (HADE) examines the locational choices of participants who chose to move during their first year in the experiment. HADE was a HUD-contracted test of direct tenant housing subsidy models in the metropolitan areas of Phoenix, Arizona and Pittsburgh, Pennsylvania. The report describes the neighborhoods of origin, compared to the neighborhoods of destination, for those participants that moved. This report is the first of two.

This report is part of the collection of scanned historical documents available to the public.