Public Knowledge and Evaluation of Housing Allowances: St. Joseph County, Indiana, 1975
Release Date:
July 1977 (166 pages)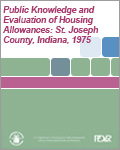 This historic working note describes community attitudes toward HUD's experimental housing allowance program in St. Joseph County, Indiana. The report examines public knowledge about and perceptions of the program prior to members of the community having had any actual experience with it. Researchers gathered program awareness and evaluation data in late 1974 and early 1975 through a survey of 2,775 area households. St. Joseph County was Site II of HUD's Housing Assistance Supply Experiment, a program to test the market impacts of providing housing allowances to low-income households.

This report is part of the collection of scanned historical documents available to the public.