Housing Discrimination Study: Analyzing Racial and Ethnic Steering
Release Date:
October 1991 (100 pages)
Posted Date:
July 1, 2021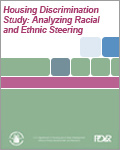 This historic publication was sponsored by the Department of Housing and Urban Development's Office of Policy Development and Research and conducted by The Urban Institute and Syracuse University to analyze the incidence and severity of steering. The report examines the hypothesis that black and Hispanic homebuyers are "steered" away from predominantly white neighborhoods, and offered housing opportunities in more integrated or less affluent neighborhoods instead.

This report is part of the collection of scanned historical documents available to the public.