Housing is People
Release Date:
September 1944 (38 pages)
Posted Date:
February 10, 2021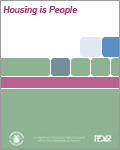 This historic document consists of a series of statements taken from war housing residents at a series of public housing conferences held in California and Utah in June, July, and September 1944. The residents express to interviewing public housing managers their ideas to improve their communities, remediate problems, and promote cooperation between management and residents.

This report is part of the collection of scanned historical documents available to the public.