Housing Recovery and CDBG-DR: A Review of the Timing and Factors Associated with Housing Activities in HUD's Community Development Block Grant for Disaster Recovery Program
Release Date:
April 2019 (117 pages)
Posted Date:
January 19, 2021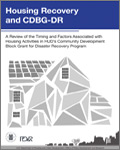 This study examines post-disaster housing recovery supported by the Community Development Block Grant Disaster Recovery (CDBG-DR) program, which channels specially appropriated federal funds to state and local grantees in support of a variety of post-disaster recovery activities. The main goals of the study were to estimate how long it typically takes to complete CDBG-DR housing activities, what factors contributed to those completion times, and what could be done to improve them. The researchers estimate these activities are completed, on average, in 3.8 years, and that this time to completion has shortened over the program's lifetime. The study also examines factors that contribute to faster recovery, discusses a variety of challenges grantees face, and offers recommendations to help accelerate post-disaster housing recovery.