Income Elasticity of Housing Demand
Release Date:
July 1979 (60 pages)
Posted Date:
April 29, 2021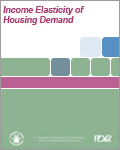 In this historic report, author John E. Mulford uses data collected during the Housing Assistance Supply Experiment (HASE) to produce estimates of the long-term income elasticity of housing expenditures for housing allowance recipients in both Green Bay and South Bend, Sites I and II of the experiment. HASE, an experimental program to test the market impacts of providing housing allowances to low-income households, was the second component of HUD's Experimental Housing Allowance Program.

This report is part of the collection of scanned historical documents available to the public.