Interim Technical Report Pension Fund Investment for Home Ownership
Release Date:
April 1972 (68 pages)
Posted Date:
March 12, 2019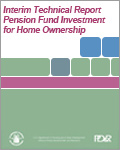 This historic report describes the design, implementation, and preliminary results of a pilot program to allow employees to finance home purchases using equity accrued from pension funds and profit-sharing plans. The pilot was implemented at Forest City Enterprises in May 1971 and resulted in a single home purchase. A case study of the lone purchase is included in this publication.

This report is part of the collection of scanned historical documents available to the public.