The Impacts of Self-Sufficiency Interventions on Recipients of Rental Housing Subsidies: An Exploratory Analysis of Data from Selected Randomized Controlled Trials
Release Date:
January 2015 (33 pages)
Posted Date:
October 31, 2016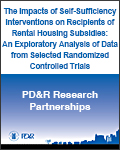 This working paper explores the effects of various employment-advancement or antipoverty initiatives on labor market outcomes for participants in those programs who were also recipients of government rental subsidies. The findings are based on exploratory secondary analyses of data from a collection of randomized trials for which MDRC served as the evaluator. The purpose of these secondary analyses was to produce evidence that could help guide planning for future programs aiming to help housing-assistance recipients obtain, sustain, and advance in employment.