Maintaining a Training Source File
Release Date:
May 1943 (15 pages)
Posted Date:
June 23, 2020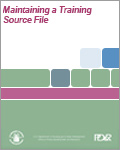 This historic bulletin provides instruction to regional management training advisors regarding the maintenance of training source files for use in the instruction of FPHA management personnel. The majority of the bulletin details suggested filing methods.

This report is part of the collection of scanned historical documents available to the public.