Maintenance of Fair Rents During the Emergency
Release Date:
January 1941 (20 pages)
Posted Date:
February 10, 2021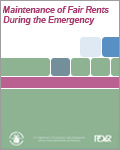 This historic bulletin, issued by the Consumer Division of the National Defense Advisory Commission for use by states and localities where domestic wartime activity caused serious local rent problems, addresses the question of rent control. The report's authors assert that rent control policies are desirable only when housing supply cannot be increased rapidly enough to address the problem in the market, and provide examples of cases in which intervention is necessary or, in their view, contraindicated. The publication contains additional resources such as model legislation for states.

This report is part of the collection of scanned historical documents available to the public.