Manual of Market Analysis for Low-Rent Housing
Release Date:
January 1940 (44 pages)
Posted Date:
February 10, 2021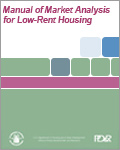 This historic bulletin is a manual to assist local housing authorities in their preparations of market reports. Market reports are, in the context of this publication, tools to present the conclusions resulting from a market analysis and draft a plan for a local U.S. Housing Authority (USHA)-aided program to meet the housing needs of low-income families. The manual describes the purpose of a market analysis, the data required, the form and content of a market report, the manner by which a market report must be submitted to USHA, and more.

This report is part of the collection of scanned historical documents available to the public.