Measuring Racial Discrimination in American Housing Markets: The Housing Market Practices Survey
Release Date:
April 1979 (344 pages)
Posted Date:
July 23, 2021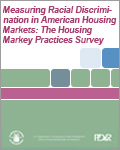 This historic publication is the first formal report of a nationwide study of discrimination against blacks in the sale and rental of housing. Data was collected in the spring of 1977 within 40 metropolitan areas across the country, approximately 300 whites and 300 blacks, in matched pairs, shopped for housing advertised in metropolitan newspapers. The study provides definitive evidence that blacks are discriminated against in the sale and rental of housing.

This report is part of the collection of scanned historical documents available to the public.