National Housing Agency Handbook
Release Date:
April 1947 (81 pages)
Posted Date:
March 5, 2020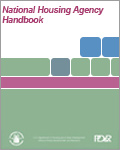 This historic manual details the objectives, policies, duties, staff roster, and organizational structure of the National Housing Agency. The document provides a narrative of the establishment of the NHA, and elaborates on the procedures followed by its employees.

This report is part of the collection of scanned historical documents available to the public.