An Evaluation of the New York City Housing Authority's Family Reentry Pilot Program: Final Report to the U.S. Department of Housing and Urban Development
Release Date:
September 2017 (88 pages)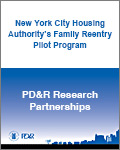 In 2014 the Vera Institute of Justice entered into a research partnership with PD&R to evaluate a pilot program to test the New York City Housing Authority (NYCHA) new tenant selection criteria allowing 150 formerly incarcerated individuals to return to NYCHA housing and move in with their families. The two-year evaluation had two main goals: (1) to describe pilot participants' characteristics, including their needs, experiences, and short-term program outcomes (outcome study); and (2) to assess the pilot's design, implementation, and feasibility for scaling-up and replicating it in other jurisdictions (implementation and process study). Data collection included in-person semi-structured interviews with program participants, non-participating applicants, family members, and service providers; review of program reports; analysis of administrative data from New York State Department of Corrections and Community Supervision (DOCCS) and New York City Department of Homeless Services (DHS).