New Housing in High-Productivity Metropolitan Areas: Encouraging Production
Release Date:
September 7, 2021 (33 pages)
Posted Date:
September 7, 2021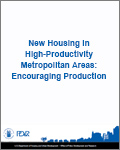 This report was written in response to requests in committee reports accompanying the FY 2019 and FY 2020 annual federal appropriations, that the U.S. Department of Housing and Urban Development (HUD) (1) identify metropolitan areas with high housing costs and low production, and (2) recommend best practices for localities and states to help encourage the production of new housing in high-cost metropolitan areas. Much of the literature on housing regulation focuses on areas with "high-cost, highly regulated" housing. HUD was asked to look beyond high-cost jurisdictions to high-productivity jurisdictions. This report follows the report HUD submitted to Congress in March 2019, Addressing Housing Affordability in High-Cost Metropolitan Areas in the United States.
The report identifies metropolitan areas with high housing costs, which continue to be predominantly on the West and East coasts, and high productivity metropolitan areas, which are spread more broadly throughout the country. The report then identifies strategies that can be used across a wide range of state and local jurisdictions to increase housing production to better enable households of all income levels to access high-productivity areas.