New Initiatives in Fair Housing: A Case Study on a Class Action Suit
Release Date:
May 1979 (82 pages)
Posted Date:
July 23, 2021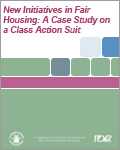 This historic publication describes the methods of gathering and evaluating evidence preparatory to the filing of a law suit alleging racial steering on the part of defendant brokers and multiple listing services. Additionally it analyzes the merits of class action litigation at the request of individuals and organizations aggrieved by these practices.

This report is part of the collection of scanned historical documents available to the public.