New Trends in American Homeownership
Release Date:
June 1996 (38 pages)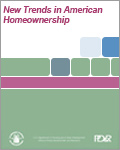 This historic report, prepared by HUD's Office of Policy Development and Research, provides an analysis of patterns of American homeownership in three periods: prior to 1970, from 1970 to 1990, and the then-contemporary period of the early to mid-1990s. The report discusses the economic conditions present in the 1990s, the characteristics of homebuyers at this time, and the conditions of underserved populations. The authors also examine affordability problems, lending disparities, industry responses to these issues, and the benefits of affordability initiatives.

This report is part of the collection of scanned historical documents available to the public.