Planning for Low-Rent Housing: a Non-Technical Guide for Local Authorities
Release Date:
January 1938 (30 pages)
Posted Date:
July 9, 2020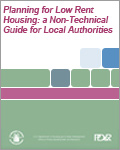 This historic leaflet, written by the National Association of Housing Officials, describes the process of establishing a local housing authority, determining local housing needs, siting and designing affordable housing projects, and developing those projects. The publication was intended for use by local housing officials working in localities that had not yet established a housing authority for the provision of affordable housing.

This report is part of the collection of scanned historical documents available to the public.