Profiles of HUD Section 184 Program Loan Applicants
Release Date:
January 1998 (24 pages)
Posted Date:
July 2, 2020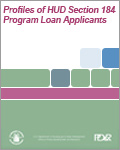 This historic report describes typical applicants to HUD's Section 184 Indian Housing Loan Guarantee Program. Initiated in 1994 by HUD's Office of Public and Indian Housing, Section 184 provided access to private funding to Native American families and housing authorities who could not otherwise acquire housing financing because of the unique legal status of Indian trust land. Properties held in trust cannot be mortgaged, which presents an obstacle to acquiring private financing in tribal communities.

This report is part of the collection of scanned historical documents available to the public.