Report on Select Aspects of the Jacksonville Housing Allowance Experiment
Release Date:
May 1976 (308 pages)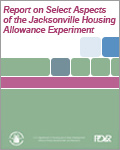 This special historic report, conducted as part of HUD's Housing Allowance Administrative Agency Experiment (HAAAE), addresses issues related to the substantial underperformance of the local housing agency in Jacksonville, Florida, compared to the seven other agencies participating in HAAAE. The report examines factors including substantial racial discrimination in the local rental market, the limited availability of dwellings that met the housing allowance program's minimum standards for occupancy, and landlord reluctance to rent to housing allowance recipients.

This report is part of the collection of scanned historical documents available to the public.