Review of HUD 2020 Management Reform Critical Milestones
Release Date:
December 1998 (28 pages)
Posted Date:
July 9, 2020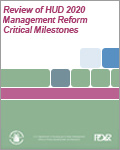 This historic report, prepared for HUD's Office of the Secretary by PricewaterhouseCoopers, evaluates and assesses the implementation of the 2020 Management Reform Plan. Adopted in June 1997, the 2020 Management Reform Plan set goals related to improving customer service, implementing new management controls, reorganizing and consolidating department operations, and more.

This report is part of the collection of scanned historical documents available to the public.