Sustainable Construction in Indian Country: Expanding Affordability With Modular Multifamily Infill Housing
Release Date:
October 2014 (12 pages)
Posted Date:
February 3, 2015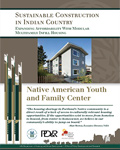 Kah San Chako Haws (East House in Chinook) is the first multistory, multifamily modular building in Portland, OR. The three-building development houses nine low-income families in studio, one- and two-bedroom units. In an increasingly expensive housing market, the Native American Youth and Family Center (NAYA) developed this prototype to demonstrate the cost and time savings that could be achieved in affordable housing while providing a unit superior to and greener than most conventional, affordable housing.