Supportive Housing Program Desk Guide
Release Date:
January 2008 (130 pages)
Posted Date:
June 19, 2019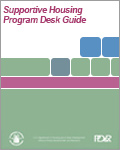 This publication is a guide intended for homeless assistance program staff administering McKinney-Vento grants awarded through the Supportive Housing Program. The guide provides resources, technical information, and policy guidance on the life cycles of grants obtained through this program.

This report is part of the collection of scanned historical documents available to the public.