Selected References on Housing of Minorities: February 1947
Release Date:
March 1947 (12 pages)
Posted Date:
July 23, 2021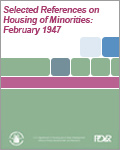 This historic publication is a list of references which are relevant to racially restrictive practices in housing. The publication consists of references to books, pamphlets, periodicals, and selective court cases.

This report is part of the collection of scanned historical documents available to the public.