Selected References on Housing of Minorities: April 1950
Release Date:
April 1950 (49 pages)
Posted Date:
July 23, 2021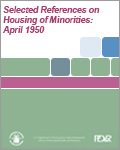 This historic publication is a bibliography of literature from 1933, when the public housing program was inaugurated, through the second quarter of 1950, although a few earlier references are included. The publication consists of references to books, pamphlets, periodicals, reports and proceedings, Congressional hearings, theses, and bibliographies.

This report is part of the collection of scanned historical documents available to the public.