Specification Bias in Housing Production Functions – Housing Assistance Supply Experiment
Release Date:
May 1982 (46 pages)
Posted Date:
January 21, 2021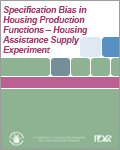 This historic note, prepared for the November 1980 North American Meetings of the Regional Science Association, addresses the impact of aggregating housing production functions during supply modeling. The paper used data gathered during the Housing Assistance Supply Experiment.

This report is part of the collection of scanned historical documents available to the public.