The State of Fair Housing – FY 2003 Report to Congress on Fair Housing
Release Date:
April 2005 (105 pages)
Posted Date:
July 25, 2021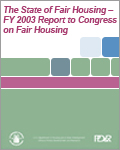 This historic publication is an annual report from HUD to Congress regarding fair housing. The report concerns the state of housing discrimination in the United States, the activities of the Office of Fair Housing and Equal Opportunity, and efforts by HUD and other government agencies to advance fair housing. The publication also includes updated guidance for HUD programs and public housing authorities. One chapter each is devoted to updates about the Fair Housing Assistance Program and the Fair Housing Initiatives Program.

This report is part of the collection of scanned historical documents available to the public.