Tell Us About Your Home: Three Years of Surveying Housing Quality and Satisfaction in the Housing Choice Voucher Program
Release Date:
May 2009 (133 pages)
Posted Date:
May 31, 2018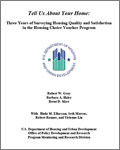 This report presents information on the quality of housing occupied by participants of the Section 8 tenant-based rental assistance, or Housing Choice Voucher (HCV) program. In fiscal year 2006, Congress provided $14.52 billion (after carryover and rescissions) for this program, which helped approximately two million low-income households obtain decent, affordable housing in the private market. The HCV program is administered locally through approximately 2,500 public housing agencies (PHAs). Each PHA is responsible for ensuring that all housing in the program is decent, safe, and sanitary. Tenants lease units that have been inspected by PHA staff before move-in. HUD requires PHAs to re-inspect each unit at least once annually thereafter. The inspection requirement is part of how HUD oversees the program and verifies that Section 8 tenants live in decent housing that meet the program's identified Housing Quality Standards (HQS).

This report is part of the collection of scanned historical documents available to the public.