The Federal Government Fair Housing 1976
Release Date:
January 1976 (111 pages)
Posted Date:
July 24, 2021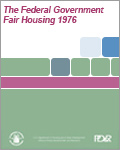 This historic publication is a summary of fair housing efforts in the Federal Government during 1976. It also contains HUD recommendations for improving the promotion of fair housing in selected Federal programs and a discussion of some directions for future efforts.

This report is part of the collection of scanned historical documents available to the public.