Youth Programs for FPHA Projects
Release Date:
May 1943 (7 pages)
Posted Date:
June 23, 2020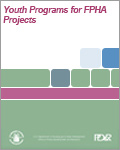 This historic bulletin is a guide to planning educational and recreational programs for youth living in FPHA housing projects. The guide was written for the use of local housing authorities and housing managers, and describes many available youth programs. Many of the programs discussed relate to the domestic war effort ongoing at the time of publication.

This report is part of the collection of scanned historical documents available to the public.