Study of HUD's Section 108 Loan Guarantee Program
Release Date:
September 2012 (384)
Posted Date:
September 24, 2012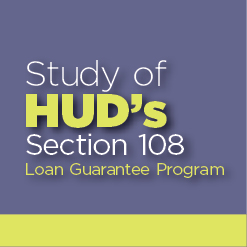 This report examines how the Section 108 Loan Guarantee program has been used as a source of financing for local economic development, housing rehabilitation, public facilities, and large-scale physical development projects, and what resulted from these investments, which are designed to benefit low- to moderate-income (LMI) persons. The program is designed to encourage private economic activity, providing the initial resources or simply the confidence that private firms and individuals may need to invest in distressed areas. This report also examines whether Section 108 funds were uniquely suited to the funded activities or whether other programs could do the job.