HUD at 50: Creating Pathways to Opportunity
Release Date:
October 2015 (268 pages)
Posted Date:
October 30, 2015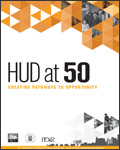 A stable home serves as the foundation of our lives. It's where we begin every morning and where we end every night. It's where we raise our families and build our futures. It provides us with the security to look towards a brighter tomorrow, and the peace of mind to pursue our dreams. For 50 years, the U.S. Department of Housing and Urban Development (HUD) has helped millions of Americans secure a place to call home.