A Guide to the Annual Housing Survey: a Closer Look at the Nation's Housing and Neighborhoods
Release Date:
February 1979 (9 pages)
Posted Date:
February 2, 2021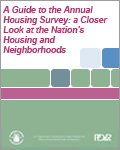 This historic publication describes the purpose, scope, and utility of the Annual Housing Survey, a yearly survey conducted by the U.S. Census Bureau about America's homes and neighborhoods. In 1984, the Annual Housing Survey moved to an every-other-year scheduled and changed its name to the American Housing Survey.

This report is part of the collection of scanned historical documents available to the public.