A Study of Community Facilities and Programs Serving Residents of Low Rent Public Housing
Release Date:
June 1967 (21 pages)
Posted Date:
February 10, 2021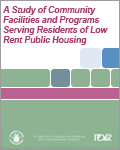 This historic study surveyed 3,000 local housing projects in order to develop information about community facilities and programs in public housing developments. The authors analyzed the results to draw conclusions regarding the sponsoring agencies and groups, the community service programs offered, the buildings and facilities used, and the unmet needs that still existed.

This report is part of the collection of scanned historical documents available to the public.