A Topical Guide to HASE Research
Release Date:
June 1979 (87 pages)
Posted Date:
June 5, 2018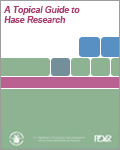 This historical document is a topically organized guide to the research methods and findings of the Housing Assistance Supply Experiment (HASE), a component of the Experimental Housing Allowance Program (EHAP). The document includes an index of reports, working notes, and papers which had been produced by EHAP through March 1979.

This report is part of the collection of scanned historical documents available to the public.