Affordable Housing: How Local Regulatory Improvements Can Help
Release Date:
September 1982 (14 pages)
Posted Date:
January 8, 2021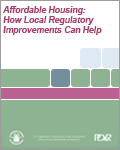 This historic publication is a product of HUD's Joint Venture for Affordable Housing program, a public-private partnership launched in 1982 to investigate the promotion of housing affordability through regulatory reform. This report focuses on local regulatory reforms, and discusses policy changes to reduce costs associated with land, site improvements, construction, and administrative procedures.

This report is part of the collection of scanned historical documents available to the public.