Affordable Housing Development Guidelines for State and Local Government
Release Date:
November 1991 (177 pages)
Posted Date:
February 18, 2021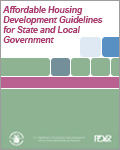 This historic manual describes changes that officials can make to approval processes, land use and zoning regulations, local construction and building code ordinances, and other development-related procedures in order to ease the cost burden of regulation on affordable housing development. This document was prepared following the recommendations of the Advisory Commission on Regulatory Barriers to Affordable Housing.

This report is part of the collection of scanned historical documents available to the public.